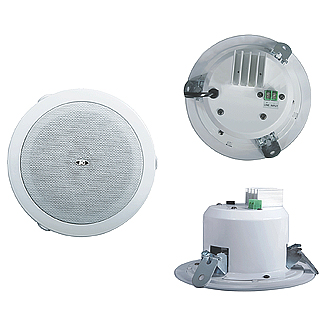 The T-105CP is an active ceiling speaker designed for guest room, clean room and classroom, which offer an high cost-effective solution. TV, laptop or DVD player outputs could be easily fed into this speaker.
The built-in 5" speaker driver is designed of wide frequency response 110-16kHz, the power output of 6W is enough for a standard guest room. The aluminum grille, metal baffle and metal back can are painted in attractive white color. Its spring clamp makes the easy and secure installation.
It is an ideal economy choice for industrial and commercial applications in hotel, school, office and factory where background music and paging is needed.